Reward Points Guide
You may have read about the approaches of earning reward points, but how do you make the most of this program and earn the most points to save with? beautifulhalo.com has developed this guide for you to refer to when earning points on our site. This is to help you get a better idea of how this program works. For new customers, you may only get limited points. For returning customers, on the other hand, you can earn so many more points by reviewing products and sharing reviews. You can create even better guides and share with us.You can also share this guide with your friends on Facebook .
For customers who haven't ordered from us:
1. Try signing up with Facebook account if you have one, since thus you can get 300 points, which is one hundred more than ordinary registration.

2. Share as many products to Facebook or Pinterest as you can, one account can get as many as 100 points in one month.

3. Try punching card several days in a row. You can earn 2-100 points by one punch. The more often you are back on the site punching it, the more likely you will be rewarded with high points with single punch. You are looking at a couple of hundreds points here if you consecutively do the punch.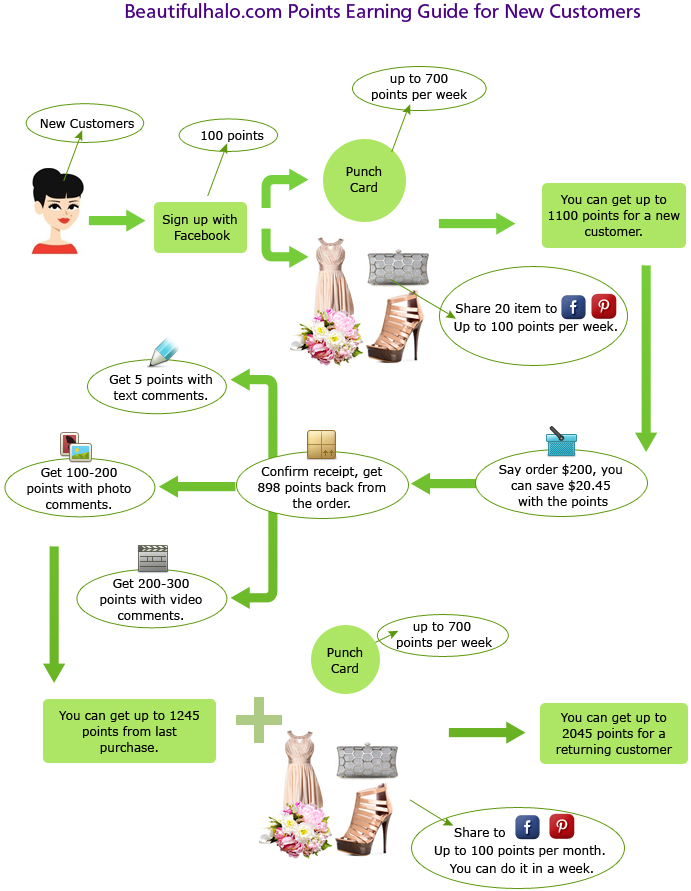 For customers who have ordered from us:
Aside from the approaches above for new customers, returning customers can enjoy even more.

1. You'll get reward purchase from your previous purchase.

2. Review the product(s) in your order with photos or videos, since thus you can get 100-300 points for a single review, which is far more than text comments can get you.

3. Share the reviews onto Facebook, since thus you can get another 100-150 points.